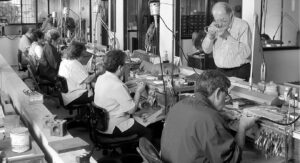 Praschnik Fine Jewelers has been designing and manufacturing high-quality jewelry for over 55 years.
Our studio in Bay Harbor Islands, FL, offers a vast selection of jewels, from classic to high fashion designs. We believe jewelry marks those special moments in life and should last generations. 
We use only the best materials and expert craftsmen to ensure our pieces stand the test of time. Our team can refinish, modify, fix, or redesign your jewelry to your exact specifications.